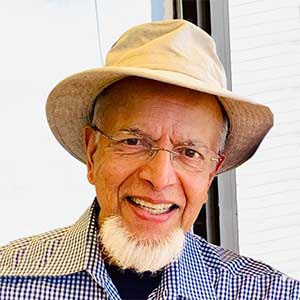 About the Author
Braz Menezes is a Commonwealth Scholar who studied Creative Writing at George Brown College and attended the mentorship program at Humber College in Toronto. His work has previously appeared in various anthologies including Canadian Voices, Volumes 1&2&3; Goa Masala; Indian Voices; and Canadian Imprints. His debut novel Just Matata: Sin, Saints and Settlers (2011) was expanded and issued as a Second Edition titled Beyond the Cape – Sin, Saints, Slaves, and Settlers (2015). Book Two of the Matata Series titled More Matata: Love after the Mau Mau first came out in 2012. Book Three Among the Jacaranda- Buds of Matata in Kenya was released in August 2018. Soul Searching in the Seychelles will be released in October 2022. The author is also currently working on a fifth book and final in the Matata Series.
Braz Menezes was born in British-ruled Kenya to parents from Goa, India (then Portuguese India). He decided to chronicle his experience of living through the last fifty years of Imperial power in the Portuguese and British Empires, in the Matata Series. (Matata means trouble in Kiswahili).
He has travelled extensively in Brazil, Mexico, Egypt, India, Pakistan, Sri Lanka, and South Korea, among others, with the World Bank. Before this he led a different life as an architect and urban planner. He turned to the pen to escape retirement and now lives in Burlington, Ontario, Canada.