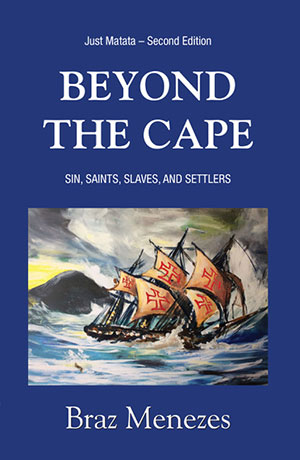 Beyond the Cape –
Book 1
Just Matata (Second Edition)
Beyond the Cape: Sin, Saints, Slaves, and Settlers is the second edition of Just Matata, the first novel of the Matata trilogy. With a new prologue, it opens with a glimpse into four hundred years of history when the Portuguese mariner, Bartholomew Diaz, travelled around the tip of South Africa in 1488. After a brief history, the novel settles in twentieth-century Kenya. Britain, on a quest for cheap submissive labour to help administer East Africa, its share of the African pie, recruits Goans who represent the "westernized Christian Indian". Chronicling the coming-of-age story of the precocious Lando, the novel follows a family whose identities straddle their Portuguese Goan ethnicity and pre-independent Kenyan nationality. Lando grapples with the complexities of family loyalties, identity, and racial segregation.
Where to buy
Reviews
Beyond the Cape is Braz Menezes' first book in his Matata Trilogy. The three books are historical fiction but they very much set in a believable world telling the story of a Goan family's experience spanning both sides of the Indian Ocean from the 1920s until decolonisation and beyond. Ostensibly it tells the story of Lando, who in this book is a young boy growing up in Kenya. In reality, the story uses Lando's life very much as a microcosm of a typical experience that any number of Goans might have lived through at the tail end of empires (as both the Portuguese and the British Empire have a role to play in this story). It also follows various branches of Lando's family tree to allow the story to move back in time or across the vast geographical spaces inhabited by the diffuse Goan diaspora. The title of 'Beyond the Cape' is chosen well as the fictional account is also book-ended by an introduction and a concluding author's note that puts a historical context to the story contained within these chapters. The historical explanation helps explain why the front cover sports a painting of a fifteenth century Portuguese Caravel plunging through dangerous seas. It also explains the role of Catholicism to the story and the reasons why certain parts of the world were more familiar to the Goan community than others. This historical context is by no means exhaustive and the fictional account itself reveals far more history than you might expect from a book with a historical fiction label.
He gives a wonderfully rich account of all sorts of facets of the life of the Goan community in East Africa whilst not shying away or ignoring some of the more difficult issues that confronted the community or the life that they led in Africa. He explores a multitude of themes and raises difficult issues and questions of morality in a believable but accessible manner. Issues of hierarchy, race, religion, morality all find themselves worked into the wider themes of family, community, education, economic opportunities and bureaucratic realities all within the wider imperial framework.
I would say that it is a delight to read an imperial story from the perspective of those who are most certainly not the rulers or the privileged.
I purchased all three of Braz Menezes' books in Toronto. Although on vacation in Toronto with family I started reading the books starting with Volume 1 "Beyond the Cape". Once I started on the books I could not put them down finding time in between catching up with family. Needless to say, I was probably not a very good houseguest. I felt I was part of the book as I could relate to the travel by ship to Goa from Kenya. The books helped me understand the formation of the different Goan clubs in Nairobi and Mombasa. My sense of pride in being Goan and raised in a modest family was uplifted with these books. The books bring out the sense of community between Muslim, Christian, and Hindu.
A forgotten piece of Africa's History
Through the early life of his principal character Lando, Braz Menezes charts in a lively and charming way a forgotten piece of African history. This is the economic migration of Goan people from Portuguese India to East Africa. This diaspora was a crucial part of Britain`s colonial rule. Goans worked in the banks, government offices and other sections of the colonial administration. But in a racially segregated society, they stood apart and had their own schools, clubs, and churches. Lando and his extended family struggle to keep their Indian -Portuguese heritage in the white settler dominated Kenya. It's an absorbing story and is one more piece of Africa`s complex history.
Awesome reading, I so enjoyed each and every chapter
Awesome reading, I enjoyed each and every chapter, from the beginning to the end!
Loved Lando's sunny personality, very engaging.
Got a small insight of the life in Goa and Kenya through his curious eyes. Vivid memories and imagination, keen sense of humour! Wonderfully written, very entertaining, loved it!
A polished version
A more polished version of "Just Matata", and a good substitute. The author sent me this book, and I enjoyed this second read even more than the first. I stand by my previous review of Just Matata, and am still waiting to find out what happened after "More Matata"!
An exceptionally captivating book!
Although I mistakenly read the sequel to this book first ('Love After the Mau Mau'), I have still thoroughly enjoyed reading this second edition of 'Beyond the Cape – Sin, Saints, Slaves and Settlers', which is the first of the 'Just Matata Trilogy', and managed to go through it over a weekend – only because I could not put it down. The only problem is that I now have nothing to go on to until the author releases his third book!
This book, again, demonstrates the author's incredible skills in telling a story through the use of appropriate words and language so that the reader 'sees' – and feels – the author's own experiences, with quite a few entertaining experiences (as seen through the eyes of an 11-year old boy) interspersed throughout the book. Of note, in particular, is how the author's emotions are so easily transferred to the reader – an exceptional skill.
The Prologue – and Author's note at the end – comprise, with the help of maps, a short but interesting and invaluable historical background of the colonial past, both in Asia and Africa – and Goa and East Africa, specifically.
Providing an interesting backdrop to this absorbing story, the book begins with his father's (Chico) decision to emigrate from Goa to Africa at the turn of the 20th Century – and, although the original destination was Mozambique, on how the decision was made to remain in Kenya following a long journey by ship across the Indian Ocean. Later, Chico returns to Goa, gets married to Anja and returns to Kenya, where the couple starts a family. This is an account of the main character's (Lando) childhood days, first in Kenya, where he was born. The reader goes through Lando's daily life in Nairobi, gets to meet his family and neighbours, travels with him on his first trip through the Rift Valley via Nakuru (where he first meets Saboti) and then on to a tea plantation in Kericho; one gets to learn about the influence of the Catholic Church on Lando, his family and the wider Goan community and also about the challenges faced by all newly-arrived Goan immigrants in Kenya. All the characters become familiar friends as the reader goes through this book. The reader gets to meet Simba, his pet dog in Kenya and, later, Dik-dik, his pet squirrel in Goa – both heart-warming additions to this lovely story! A decision by his father to send him to boarding school in Goa at the age of ten takes the reader through Lando's first train journey from Nairobi to the coastal town of Mombasa, his first journey by ship from Mombasa to Goa via the Seychelles, his apprehension about leaving Kenya, his family and his friends, and the challenges he faces when trying to settle down at boarding school in Goa – and how he tries to overcome them. The description of life in Goa with his extended family is particularly vivid and very interesting.
I would highly recommend this book to anyone who has connections with Kenya and Goa but it also makes very interesting reading for those who do not. Looking forward very much for the release of the third book in this Trilogy.
Awesome reading, I so enjoyed each and every chapter
A great read, narrated in a relaxing style, that brings alive an era bygone. Written with wit, humour, Lando's life Journey in Kenya, his travels to and from Goa evokes memories for those who lived in Kenya during the British Colonial period. It sheds light on the journey of a Community not very well known internationally, that with cultural and other struggles, flourished and co-existed within two worlds. Indeed a tribute to that community. Via Braz Menezes's bold writing, much needed to remind some and inform all of a chapter in history, that was filled with excitement, pioneering and other trials. Highly recommend this book.
Great Narrative
This is a great narrative that illustrates the readers about the history of Portugal, India (especially Goa) and Kenya in the XX century, while telling the travails of Lando.
Excellent Read
Excellent read! Looking forward to third book.
A "Must-Read" Read That Captures a Specific Time and Place with Strong Community Voice
There is a Cherokee proverb "Don't criticise someone unless you have walked in their moccasins" I have rarely enjoyed a book so much as I have Beyond the Cape. Many books have been written about Asians in East Africa. A few books have been written about Goans in East Africa. This one encapsulates the lives of post-war a Kenyan-Goan generation, spanning the racially segregated of East Africa and the educational needs of community attempting to ensure its future in colonial Africa. Through the character of Lando, Menezes captures the facts, myths, traditions, notions, fears and aspirations with incredible detail. Only someone who had lived through the events could write this. He even captures the unique Goan-English dialogue. This sets the book aside from many academic books and papers (including my own) or the reportage-style books on the "Afrikander" experience. A "must read" that captures a specific time and place with strong community voice.