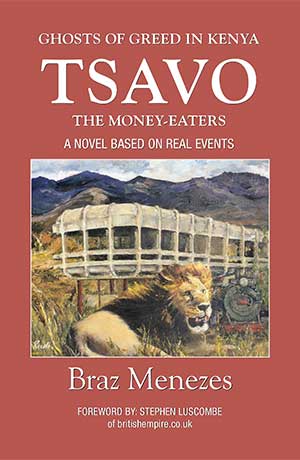 Tsavo The Money-Eaters –
Book 5
Ghosts of Greed in Kenya
Lando's innovative design for the TSAVO Man-Eaters Motel, inspired by John H. Patterson's 1907 novel "The Man Eaters of Tsavo", was abandoned in mid-construction in the 1970s. 'Ghost Directors' had plundered the funds.
In 1967, Lando returned following his Commonwealth Scholarship in the UK, determined to help his beautiful Kenya. Low local salaries were inadequate in an expatriate-dominated rental market.
Lando, forever optimistic and willing to take risks, starts his own business. Nothing, however, had prepared Lando and his English wife Eleanor for the roller-coaster ride that lay ahead. Political, financial, and family crises appear out of nowhere.
Despite this, the firm became known for professional competence and integrity, attracting young architects to join his team. Many commissions for large projects follow – now household names -- like Buru Buru Township, Loresho North and Loresho Estates; Mathare Mental Hospital; Kenya Technical Teachers College and UNEP in Gigiri, among others.
When foiling a minister's plot, Lando narrowly escapes instant deportation, risking the 'institution' he has developed over a decade. He must act fast. A 'White Knight' ensures his staff's job security.
In 1975, a third political assassination takes place. Lando and Eleanor conclude that endemic corruption has engulfed paradise. It has become too much of a personal challenge to bear. They must make a new home for their young family. Beautiful Canada welcomes them.